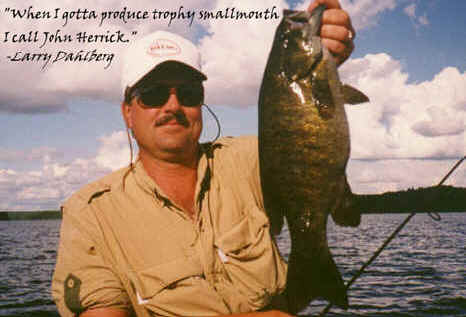 Guided Trips! click for more

guided trip rates
home - the lodge - canoe fishing - outfitting - testimonials - photo gallery
e-mail us - request literature - reservation form
_________________________________________________________________

The worlds finest smallmouth fishing
This is the guided wilderness canoe fishing vacation that started it all! Our best guided package caters to you and your group only. Enjoy remote camping at your own private wilderness camp on Ontario Canada's Basswood Lake. Moose Bay's hard working guides provide excellent meals and long days of light tackle and fly fishing for trophy smallmouth bass. This guided trip takes you to "the worlds finest smallmouth fishing". Basswood Lake has produced several IGFA fly rod world records. We know secret spots that have so many 20 inch and larger smallmouth we can almost guarantee you will become a member of our exclusive 20 inch club! You'll catch big northern pike, walleye, and lake trout too.

For the more adventurous spirit you can take a guide and portage to hundreds of seldom fished lakes. And if you don't want to camp check out our Deluxe Guided Lodge Package.

We include lakeside lodging with meals at the Moose Bay Lodge, round trip tow boat service to Basswood Lake, complete deluxe camping and canoe trip equipment that's been designed for comfort, and our own deluxe trail food. We take care of all the details so you can concentrate on what's important.... fishing!


"World-Class smallmouth fishing in wilderness waters with some of
the most knowledgeable guides in North America."
Editor in chief Doug Stange, In-Fisherman Magazine

The Moose Bay Co.
PO Box 697 Ely, MN 55731 218-365-6285
www.moosebay.com
www.tarpontrips.com
links to special offers and discounts
www.canoetrips.info - www.bassfish.info - www.smallmouthtrips.com